What does it mean to nurture nature?
The relationships we form with the animals in our lives go far beyond the superficial. These connections can be fleeting, a quick visit to a feeder for a snack and a song.
Or they can endure far longer, with year after year of loyal affection.
Be it measured in seconds or years, these bonds remind us of the strength and beauty of the natural world. Animals entertain and enlighten, they fill our hearts, they lift our spirits. We want to lift them up too.
To nurture nature is to appreciate these wonders of the world flying through our gardens, bouncing in our backyards and bounding through homes. It is to deliver goodness to their grace. It is to help them grow and thrive. And, at the heart of our work, it is to grow healthy and wholesome food that allows them to run free and soar above.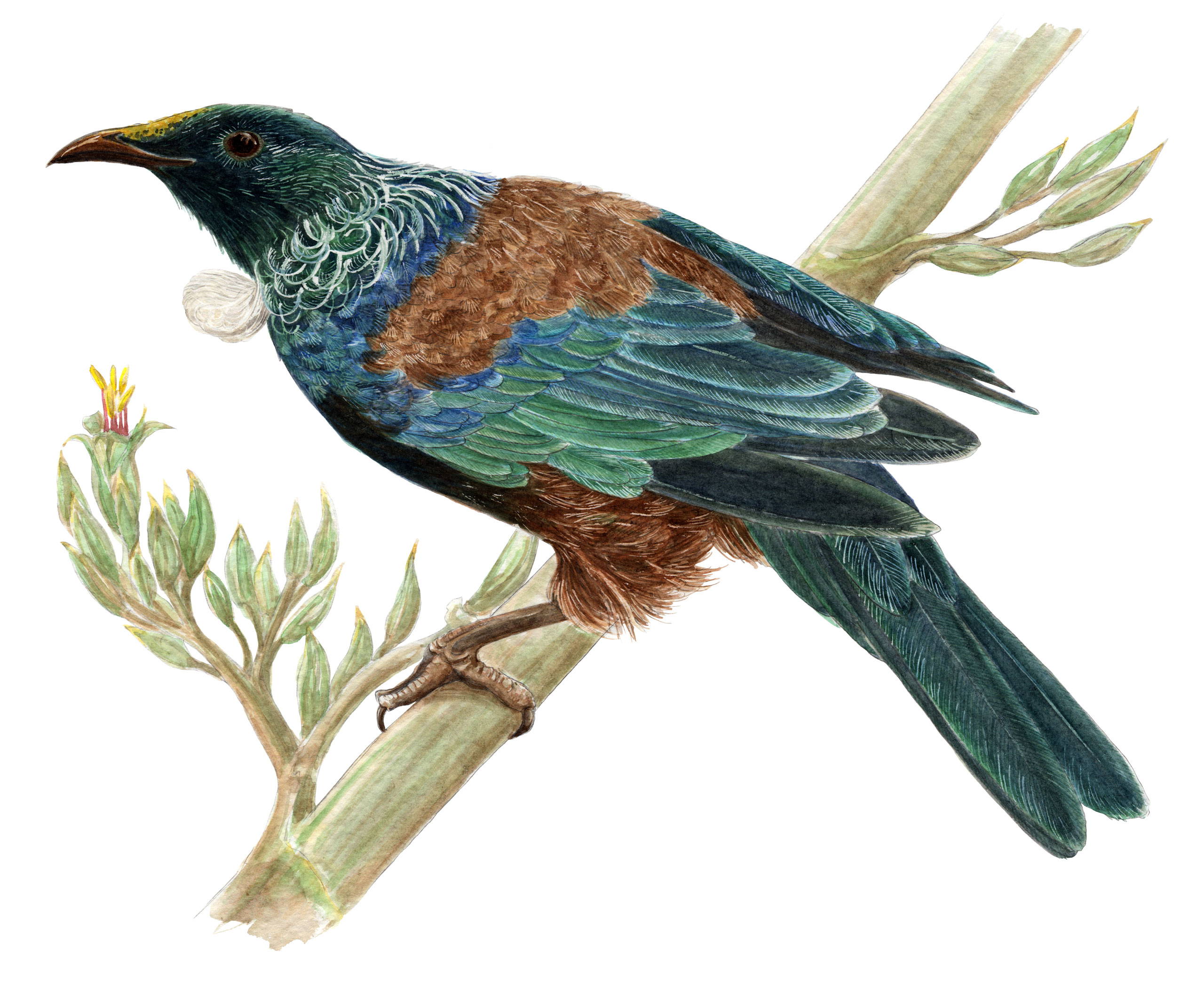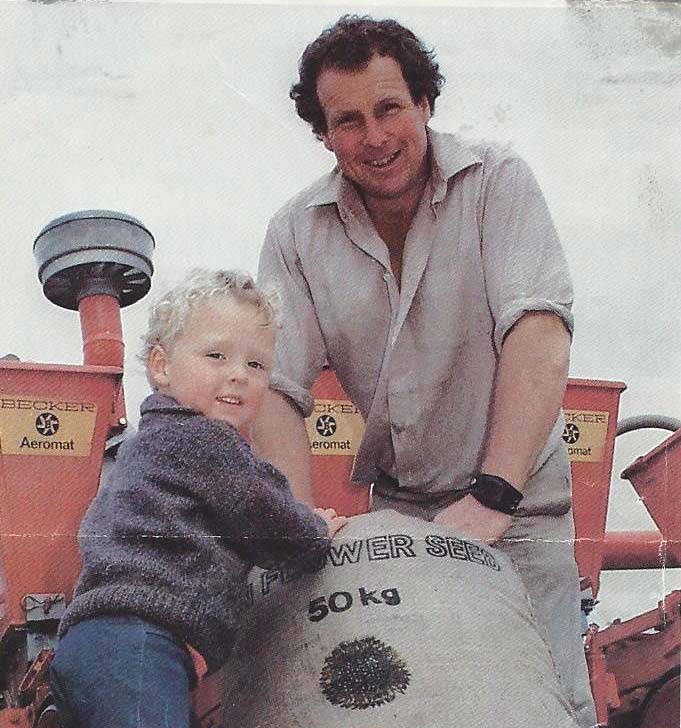 Jock Webster. Now: Director. Then: Founder. Greg Webster. Now: General Manager/Owner. Then: Intern
…in 1974 the Mitchell and Webster families worked together to plant the first sunflower crops at Rosedale Farm in Oamaru. They saw an opportunity for home-grown seed for birds.
In the 70's, imported bird feed had flooded the New Zealand market. This imported product required heat-treating at the border – a necessary bio-security measure to prevent unwanted visitors arriving on our shores.
However, this treatment also stripped valuable nutrients from the seed. We knew there was a better way.
Sown here, grown here, our seed retains every iota of natural goodness.
We can thank the land under us for so much of this goodness. The limestone landscape surrounding Oamaru provides more than dramatic outcrops and spectacular sights. In 1871 the rich soil was first identified as ideal for cropping by an ancestor, Henry Mitchell. Thanks to his vision we've been able to grow exceptional crops for decades now.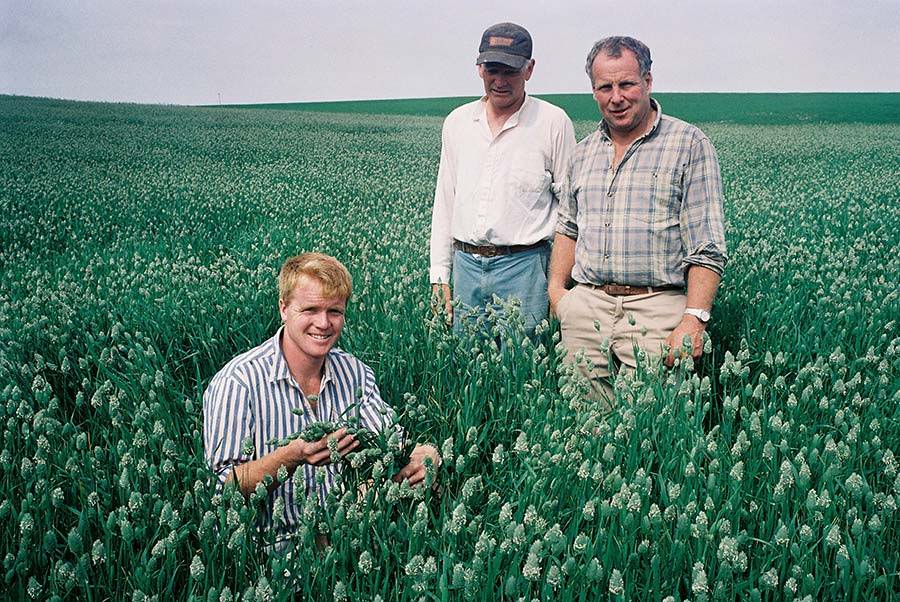 Canary fields, Mitchell & Webster Farm. Ross Mitchell & Jock Webster (Topflite Founders) with Peter Mitchell (now Topflite Owner).
Since 1974 we have expanded our range of crops and refined our products, always seeking to create the best combination of seeds for the highest nutritional outcomes. So too have we branched out, creating new feed and flavours for other much-loved pets, including dogs, rabbits, guinea pigs, chickens and ducks.
In that time, we've seen pet food different trends come and go. But we've never lost focus of our original commitment to the natural environment and respect for those who benefit from our products.
The two families still work from the farm and now, with the next generation at the helm at Topflite, we continue to develop and grow our range, ensuring New Zealand's animals can continue to benefit from our nurturing approach.
…to delivering quality feed is about growing exceptional raw material and never losing sight of the nutritional needs of our diners. A good balanced diet, high in natural vitamins and minerals, ensures animals can grow to full potential and live happily and healthily.
Everything starts at ground level. Our farming partners take a holistic approach to everything they do. They start by testing and balancing our soil using only minerals that would naturally occur in New Zealand. Then they utilise innovative techniques to ensure our feed is raised right today, tomorrow, and in all the tomorrows to come.
This intergenerational perspective is vital for our continued success. Only with a respectful and vigilant approach to land, crop and animal can we safeguard our future.
The expertise of our wider network is equally vital. Working with experienced breeders and pet nutritionists, we have developed our range to suit the unique needs of our many different diners. First, we ensure a steady supply of the highest quality raw material. Then, post-harvest, we shape this material while essentially 'getting out of the way of nature's good work'.
There is sentiment within the careful working of our land and the growth of our products. There is science behind delivering the correct nutritional elements to each animal and every breed can soar ahead. Our approach to crafting natural New Zealand pet food is always equally dedicated to both.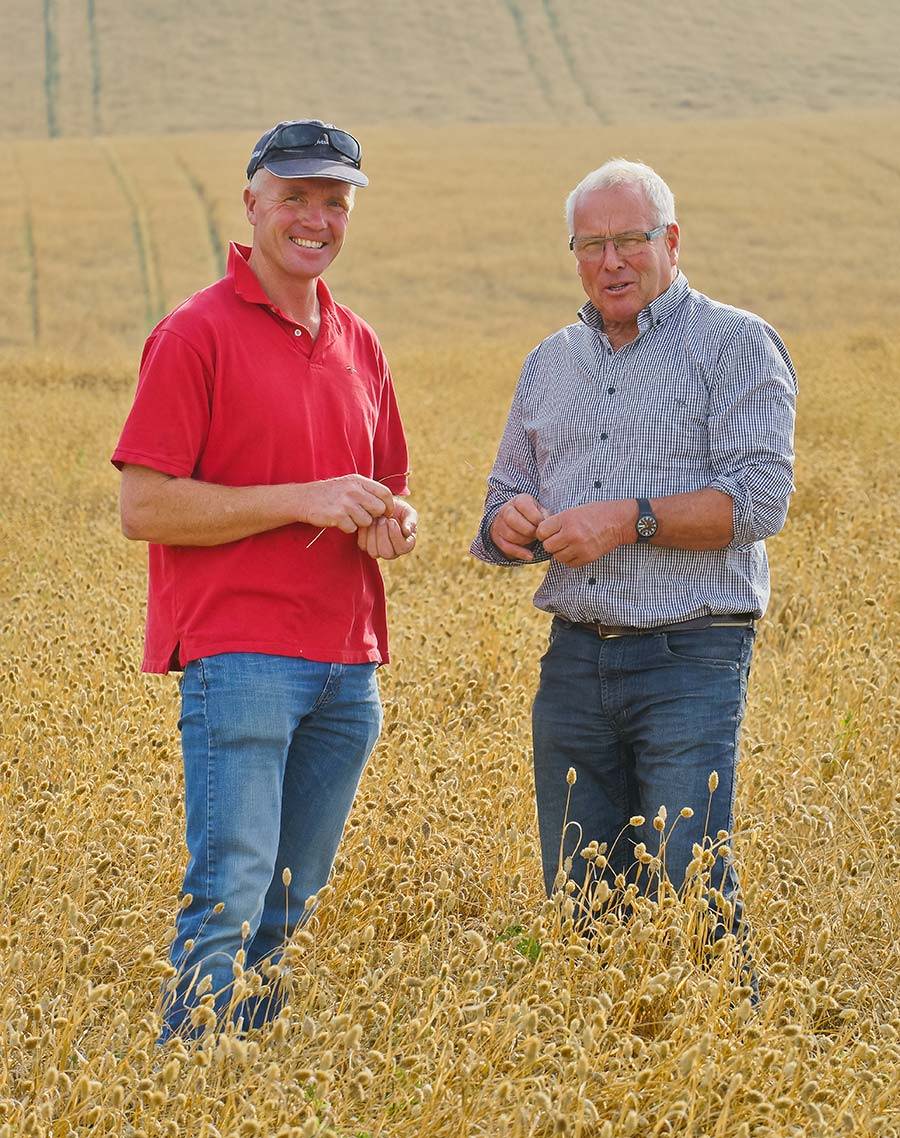 Date 2014Peter Mitchell. Topflite OwnerJock Webster. Topflite Director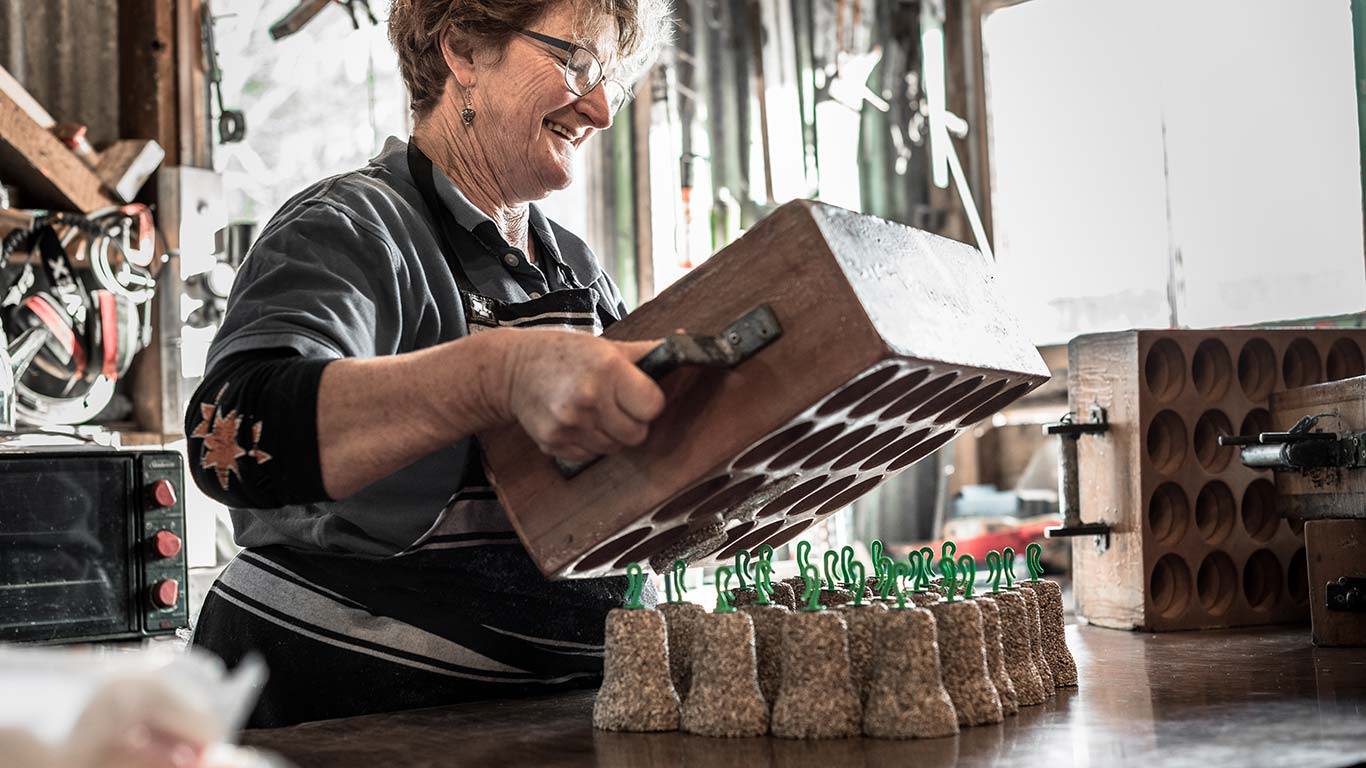 Trish releasing bird bells into the wild.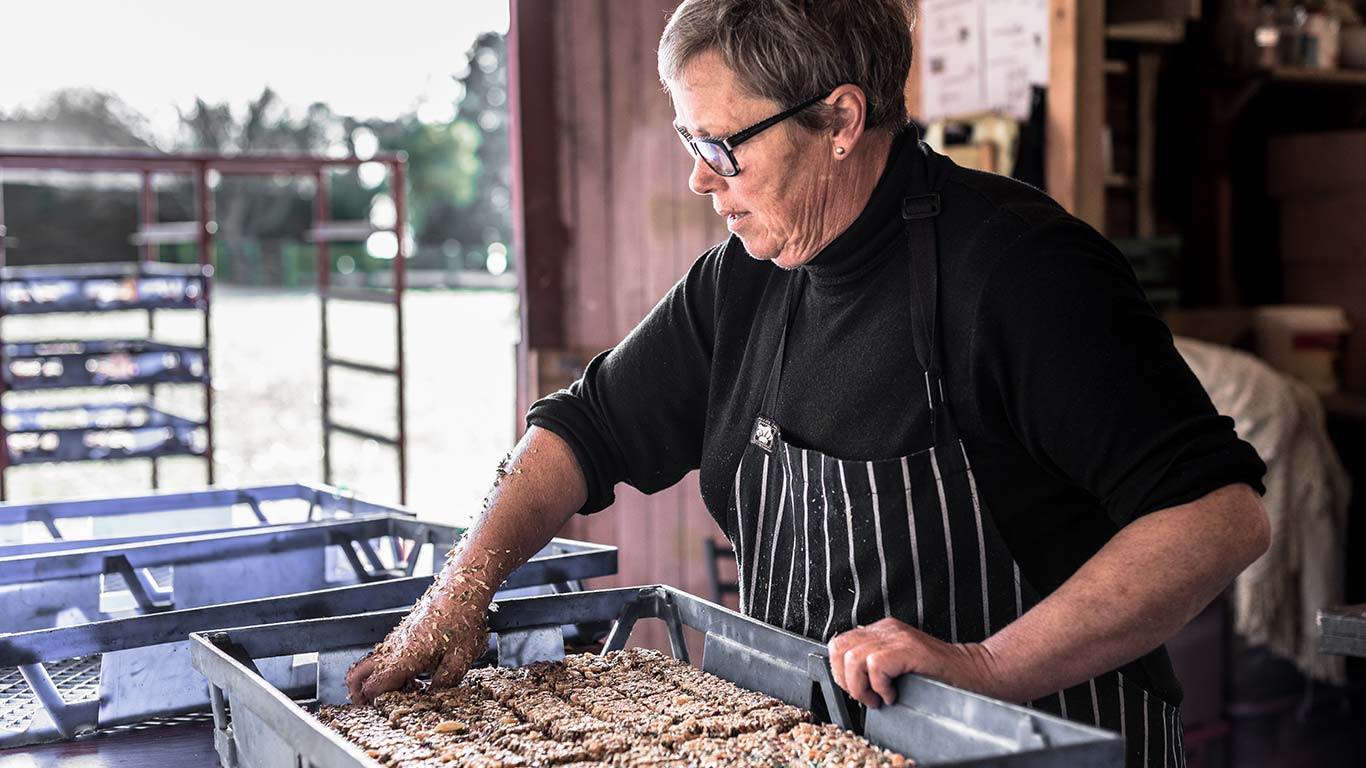 Dawn hand-making our poultry peckers.
Jock and Helen Webster, at the heart of our business.

Guardianship.
We grew up here.
In 1975 our farm began growing sunflowers. Since then, our business has grown, our family has grown, and our reputation for healthy, wholesome feed has grown too. Ensuring this growth continues means holistically caring for our land and crops, keeping an eye on the big picture and understanding our responsibility for future generations.

Respect.
We look up to our animal friends.
This enduring mindset is a big part of our research and development and the
reason why we have such non-negotiable standards behind our quality feed. We will continue to improve and elevate what we can offer. Our respect for those who eat it demands nothing less.

Nourishment.
We nurture nature.
The unique and beautiful animals within our forests, backyards and homes are hugely important to Kiwis everywhere. We nourish them with our seed and through our food. The pure, unsullied nature of this food can make a big difference to their health and to the quality of their lives.
Community.
We flock together.
Aotearoa is a small country and ours is a family business. When your customers and communities are one and the same, working for positive change is a responsibility not taken lightly. In our products, our employment, and our charitable support we understand the importance of collective empowerment, both for people and for animals.