Five birds New Zealand has taken under our wing

After all the celebrity-making antics of the recent Bird Of The Year competition we started thinking back over other birds that have hogged the spotlight over the years. Here are our favourite five…
1. Goodnight Kiwi
Anyone born in the 90s and 00s probably won't remember this end-of-telly-for-the-night tradition. But say the name to anyone who watched TVNZ between 1975 and 1994 and memories of the animated kiwi and his faithful cat companion will come flooding back.
2. Sirocco the kākāpō 

Who would have thought an amorous kakapo could win so many fans? It was due to Sirocco's choice of mating target – visiting zoologist Mark Carwardine's head.
 The escapade was caught on tape by a visiting BBC documentary crew, causing Carwardine's co-host, Stephen Fry, to utter the immortal words, "Sorry, but this is one of the funniest things I've ever seen. You are being shagged by a rare parrot". The show was somewhat ironically titled Last Chance To See, given that Sirocco would become a genuine YouTube celebrity, the romantic incident gaining over 7 million views. You can follow Sirocco on Facebook here.
3. Pew the Magpie
Pew is just one of the many colourful characters within the Footrot Flats series, first introduced as an orphaned magpie looking for a new home,
As is typical of the legendary Murray Ball's characters, Pew's history and motivations are fleshed out with warm humour and keen insight. Initially without a home due to Wal's callous destruction of his macrocarpa home, Pew is later given to Cooch as a pet. While the animal-loving Cooch does everything he can to educate the young magpie Pew's vengeful quest against Wal continues undiminished.
4. Charlie's weka
When famous New Zealand explorer and artist Charles Heaphy wrote an article on the best way to eat weka he probably had no idea it would become such an important historical recipe and inspiration for a popular 2008 book. While we won't condone the concept you've got to admire the opening instruction: "First catch your weka".
5. Laser Kiwi
From the hullabaloo of the 2015 flag debate there rose a 'people's champion' that would go on to take the world by storm.
Designed by James Gray, Fire the Lazar was a lighthearted response to the fanciful notions of many extreme views. It appeared at sporting events, concerts and, when a popular website offered millions of its users the chance to 'own' one pixel, the coordinated response from thousands of Kiwis saw it proudly representing our country.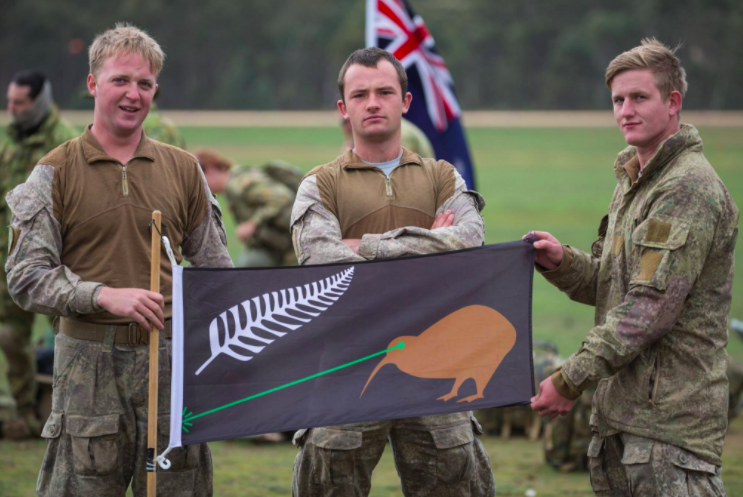 The whole thing led to international media outlets breathlessly asking, "Could a kiwi with laser eyes be on the next New Zealand flag?" No. No it definitely couldn't.
While researching this article a not unsurprising number of 'corporate birds' made the long list. From the Genesis Energy pukekos to the BlueBird penguins, many companies recognise just how popular our birds have become.
So what do you think? Should Topflite have a mascot? We're reluctant to restrict the focus of our love to just one New Zealand bird, but we're still open to feedback…